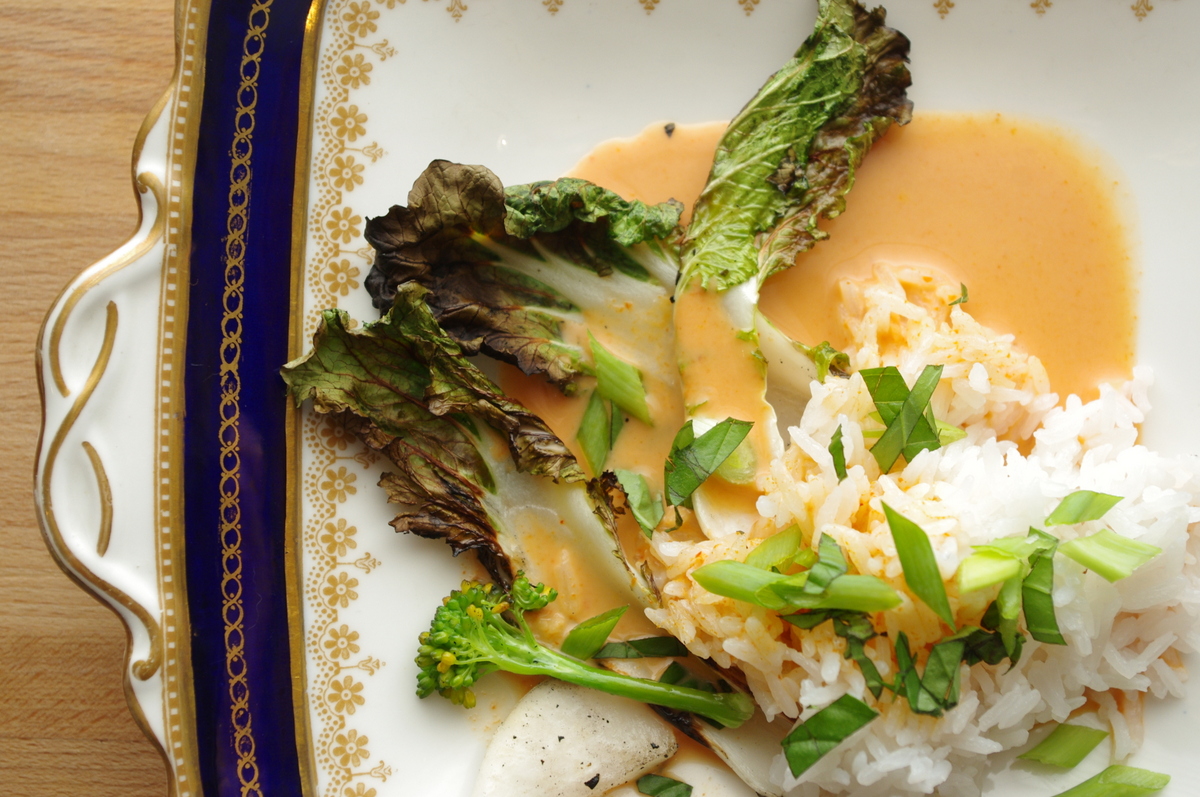 Most of the ingredients in this recipe can be found at your local grocery store in the Asian food section.  Kaffir lime leaves and Thai basil can be found at specialty food stores, or an Asian market.
Ingredients:
1 Can (13.66 fl oz/403 mL) organic unsweetened coconut milk
2-3 Tbs Thai red curry paste
2 Cloves fresh garlic, pressed or minced
1/2 inch piece of fresh ginger root, grated
3 Kaffir lime leaves
1 Tbs honey or sugar
1 Tbs fish sauce (available in most grocery stores)
Juice from 1/2 lime
3-4 Spring onions, chopped
Fresh Thai basil leaves, (optional)
Dried Thai chili peppers (optional)
Pac Choi, Napa cabbage, Fennel, and other spring vegetables of your choice
Method:
Place coconut milk, garlic, red curry paste, ginger, kaffir lime leaves, and honey or sugar, and dried chili peppers (if using) in a saucepan. Stir until combined and cover with a lid. Let simmer on medium-low heat, stirring occasionally. Stir in the fish sauce and lime juice a few minutes before serving. Season with Kosher salt to taste.
Brush Pac Choi stalks with olive oil and season with a little salt.  Place on a hot grill (along with any other vegetables you wish to use.)  Grill until the stalks begin to blister but still have a little crunch.  A grill pan can be useful for smaller vegetables.
If adding a protein, use some of the red curry sauce as a marinade for chicken, scallops, tofu, etc. before grilling.
Serve the sauce over the grilled vegetables and steamed jasmine rice.