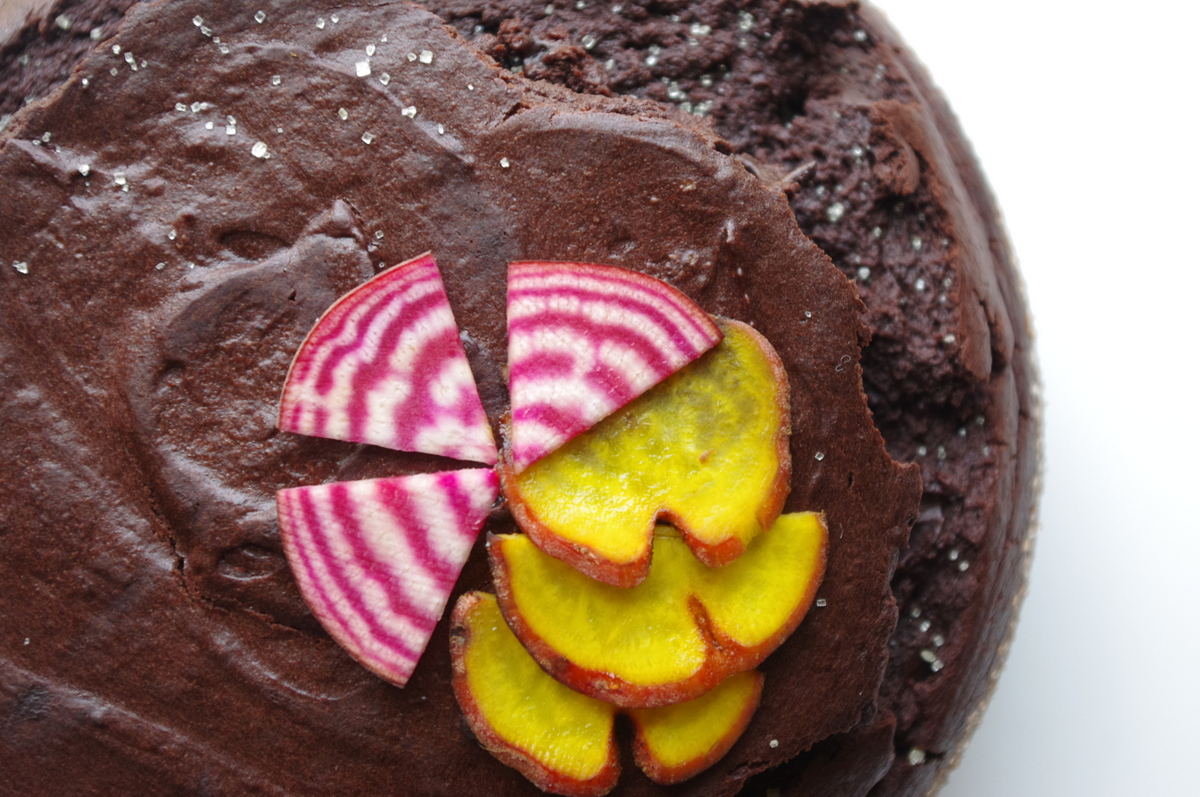 The original red velvet cakes were made with pureed beetroot or beet juice to deepen the color of a chocolate cake; not to mention the benefits of texture and sweetness coming from an economically grown vegetable. Butter and sugar have at times been rationed or expensive throughout history, but beetroot is easy to grow and readily available to most.  Cooking sweets with vegetables can also add fiber, vitamins, and minerals to a recipe, making them more nutritionally beneficial. This delicious chocolate cake is rich, smooth, and full of flavor.
Ingredients:
1 Large or 2 medium (about 1/2 lb) beets
1/2 Cup Sonrisa Farm whole wheat flour (available at the Main St. Farmer's Market)
1/2 Cup all purpose flour
3/4 Cup cocoa
3/4 Cup sugar
1 1/2 Tsp baking powder
1/2 Tsp kosher salt, plus 1 pinch
3 eggs
One 3.5 oz dark chocolate bar (60% cocoa solids or higher)
1/2 Cup canola oil, olive oil, coconut oil, or melted butter
2 Tbs B&B liqueur, or a spiced brandy
Extra butter, sugar, & cocoa for dusting the cake tin
Fresh cream & liqueur for garnish
Method:
Preheat oven to 350 degrees.
Prepare an 8 inch spring-form cake tin by coating with butter, shortening or oil. Then sprinkle granulated sugar all over the inside, followed by an even dusting of cocoa powder.
Wash beets, trim root and stems, and chop into chunks or wedges.  Place in a saucepan with enough water to cover.  Add a pinch of salt and a Tbs of B&B liqueur. Bring to a boil, then reduce heat and simmer on medium-low heat until the beets are tender.  Drain the liquid and puree in a blender until smooth.
In a large bowl, sift together the flours, cocoa, and baking powder.  Stir in the sugar and salt.
Break the chocolate bar into pieces and place in a pyrex jug with the oil or butter. Melt in the microwave and stir together.  Alternately you can melt them in a double-boiler over the stove.
Whisk together the eggs and beetroot puree
Combine the dry ingredients with the wet ingredients and mix with a hand mixer or stand mixer for 3-5 minutes, or until completely smooth.  Stir in a Tbs of the B&B Liqueur, then fill the prepared cake tin.
Bake in the center of the oven for 60 - 80 minutes, or until a skewer inserted into the center of the cake comes out clean.
Remove from the cake tin and let cool.
Serve with fresh cream spiked with Liqueur